Miewacie takie dni, że nie macie ochoty na mięso, ryby lub jajka, a chcecie zjeść coś zdrowego i pysznego? Jeśli tak, to to śniadanie jest dla Ciebie. Pietruszkowe placki z ciecierzycy. To absolutnie idealny początek dnia. Moja propozycja podania to groszek i feta, ale można zajadać je praktycznie ze wszystkim, np. z tofu, warzywną pastą, co tylko chcesz. Po przepis zapraszam na bloga.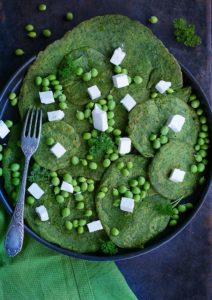 Składniki: 1 szkl. mąki z ciecierzycy, duży pęczek natki pietruszki, 1 i 1/3 szkl. wody, pół łyżeczki proszku z czarnego czosnku lub czosnku granulowanego, pół łyżeczki zielonej czubricy,  olej do smażenia, pieprz i sól do smaku – ja użyłam czarnej soli himalajskiej – nie tylko smakuje, ale i pachnie jajecznie.
Natkę posiekaj (nie musisz drobno) i wrzuć do blendera. Wlej połowę wody i zblenduj. Wsyp mąkę z ciecierzycy, przyprawy i połowę pozostałej wody. Wszystko dokładnie wymieszaj lub zblenduj i odstaw na 10 min. Jeśli masa okaże się zbyt gęsta dolej trochę wody. Na patelni rozgrzej odrobinę oleju i wlej porcjami masę. Placki smaż po 2 min z każdej strony. Ja usmażyłam placki rożnej wielkości. Gotowe placki podawaj z ulubionymi dodatkami. U mnie z fetą i świeżym groszkiem.
Proszek z czarnego czosnku od Czarny Czosnek Bio
Czarna sól himalajska, mąka z ciecierzycy, zielona czubrica i pieprz ziołowy od Radix-Bis.