Nie ma to jak pyszny jednogarnkowy obiad 🙂 ten gulasz zrobiłam przed świętami, gdy za oknem padał śnieg. Jakoś nie było okazji, że podzielić się z Wami przepisem. To proste, jednogarnkowe danie idealne na chłodniejsze dni.
Składniki: 3 łyżki oliwy, 1 średnia cebula, pokrojona w kostkę ok. 350 g grzybów pokrojonych w plasterki, 4 łyżeczki suszonego tymianku, gałązka świeżego rozmarynu, 3/4 łyżeczki soli i pieprzu, 4 ząbki czosnku (ja użyłam ząbki czarnego czosnku) posiekane, ok. 3 szklanki bulionu, 3-4 ziemniaki pokrojone w kostkę, 1 puszka białej fasoli, odsączonej, 2 łyżki śmietany  12%.

W garnku rozgrzej oliwę i dodaj cebulę. Podsmaż ją przez kilka minut. Następnie dodaj grzyby, tymianek, gałązkę rozmarynu, sól i pieprz. Gotuj przez ok. 10 minut lub do momentu, aż grzyby uwolnią większość wilgoci i zaczną się rumienić. Dodaj czosnek i gotuj przez kolejną minutę. Następnie dodaj bulion i ziemniaki i zagotuj. Po zagotowaniu zmniejsz ogień i gotuj na wolnym ogniu przez 15-20 minut, aż ziemniaki będą miękkie, od czasu do czasu mieszając. Dodaj fasolę i gotuj przez kolejne 5 minut, aż warzywa zmiękną. Śmietankę zahartuj, dodając do niej trochę gulaszu i dodaj do garnka. Zagotuj i dopraw do smaku. Przechowywać w zamkniętym pojemniku w lodówce do 3-4 dni lub w zamrażarce do 1 miesiąca.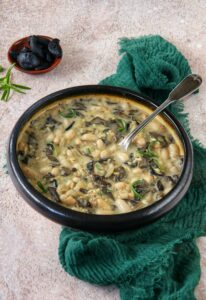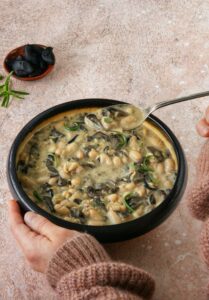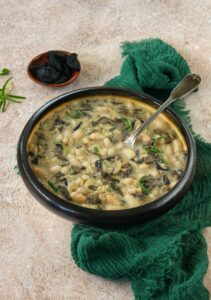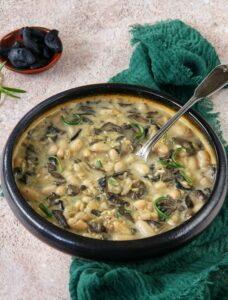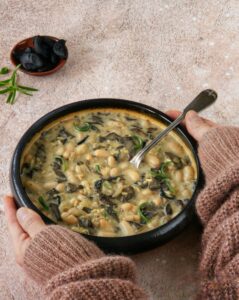 przepis ze strony: www.minimalistbaker.com