To pierwszy raz jak zrobiłam to ciasto. Miodownik. Inni nazywają go Stefanka lub Orzechowiec. Nieważne jak się nazywa, najważniejsze, że jest przepyszny 🙂
Składniki: 500 g mąki pszennej, 2 jajka, 70 g cukru, 1 łyżeczka sody oczyszczonej, 2 łyżeczka proszku do pieczenia, 100 g miodu, 70 g masła, szczypta soli, krem grysykowy (przepis poniżej), puszka kajmaku, posiekane orzechy.
Masło, cukier i miód rozpuszczam w garnku, nie zagotowuję. Połączone składniki przelewam do miski, aby lekko przestygły. Do miski dodaję przesianą mąkę, sodę, proszek do pieczenia i sól. Następnie dodaję jajka i przestudzony miód. Całość wyrabiam na gładkie i jednolite ciasto. Ciasto dzielę na 2 części, każdą rozwałkowuję i wykładam je do prostokątnej blaszki.  Każdy  blat piekę w 180°C przez 10-12 min. Blaty po upieczeniu powinny mieć złoty kolor. Blaty stygnąc- twardnieją.
Blat smaruję kajmakiem, posypuję orzechami i nakładam krem. Następnie kładę druki blat, smaruję kajmakiem i posypuję orzechami.
Gotowe pokrojone orzechy są od Czarny Czosnek BIO.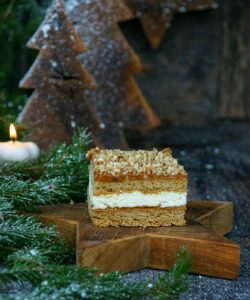 Krem grysikowy: 500 ml mleka, 60 g cukru, 70 g kaszy manny, wanilia, 200 g masła.
Mleko zagotowuję razem z cukrem i wanilią. Do gotującego się mleka dodaję kaszę mannę, mieszam za pomocą rózgi kuchennej. Gotuję przez chwilę, aż kasza zgęstnieje. Ugotowaną kaszę przekładam na talerz i przykrywam folią spożywczą, aby nie powstał na niej kożuch. Pozostawiam do całkowitego ostudzenia. Miękkie masło ucieram za pomocą miksera przez kilka minut, aż będzie jasne i puszyste. Następnie stopniowo dodaję  po łyżce kaszy manny, za każdym razem dokładnie mieszając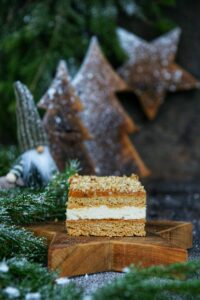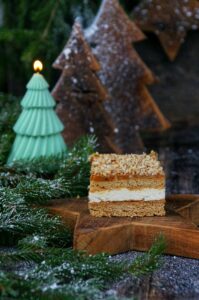 Przepis z bloga: Jedz Pysznie.