Składniki na tortownicę ok. 23cm: 150 g herbatników, 50 g masła, 200 ml mleka, 200 g chałwy waniliowej, 4 łyżki tahini, 1 kg twarogu sernikowego 1/2 szkl. cukru/ksylitolu/erytrolu, 2 jajka, 2 budynie śmietankowe (proszek)
Do rondelka wlewamy mleko, dodajemy pokruszoną chałwę oraz tahini. Podgrzewamy do rozpuszczenia chałwy i odstawiamy do całkowitego przestudzenia. Herbatniki kruszymy, a następnie łączymy z roztopionym masłem. Jajka w misce ucieramy z cukrem/ksylitolem/erytrolem. Następnie wlewamy przestudzoną masę chałwową oraz wsypujemy budynie śmietankowe (proszek). Stopniowo, cały czas miksując dodajemy twaróg sernikowy. Miksujemy aż masa będzie gładka. Dno wewnątrz tortownicy wykładamy papierem do pieczenia. Blaszkę z zewnątrz obkładamy dokładnie folią aluminiową. Herbatniki z masłem przekładamy do tortownicy i uklepujemy, a na to przelewamy masę serową. Tortownicę przekładamy do większej formy (prostokątnej) do której wlewamy wrzątek tak aby sięgał do połowy tortownicy. Najlepiej robić to od razu w piekarniku lub bardzo, bardzo ostrożnie przenieść. Pieczemy przez ok. 60 min. w 180 stopniach.
Polewa:
80-100 g chałwy waniliowej, 100 ml mleka, 3 łyżki tahini
Całość przekładamy do rondelka i podgrzewamy do momentu roztopienia chałwy. Studzimy i przekładamy na sernik.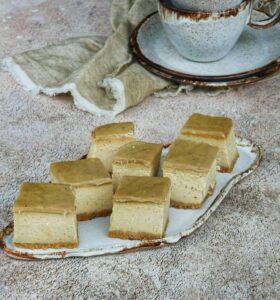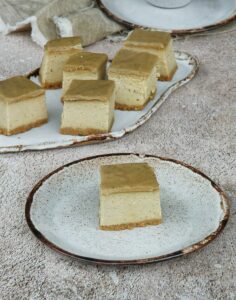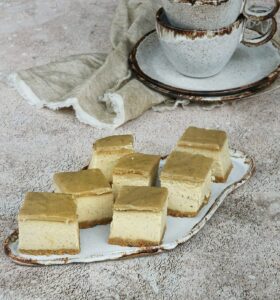 Przepis z bloga www.czarnawisienka.pl