Nie umiem robić tradycyjnych pierogów z mięsem czy kapustą i grzybami. Za to drożdżowe wychodzą mi rewelacyjne 😉 Te pieczone pierogi z ciasta drożdżowego są proste w przygotowaniu i można je napełnić, czym tylko zechcesz. U mnie jest to szczaw z ogródka praz twaróg i feta.
Ciasto: 375 g mąki, szczypta soli, 1 płaska łyżeczka cukru, 100 g miękkiego masła, 7 g suchych drożdży, 1 jajko, 5 płaskich łyżek śmietanki 18%.
Farsz: ok. 200 g szczawiu, 1 ząbek czosnku, 100 g twarogu, 50 g fety, ok. pół łyżeczki pieprzu.
Dodatkowo: 1 jajko, czarnuszka lub sezam.
W misce wymieszaj mąkę drożdże, sól i cukier. Wbij jajko oraz dodaj śmietankę. Wyrób gładkie ciasto. Można użyć miksera z hakami. Ciasto odstaw w ciepłe miejsce na 40-45 min. W międzyczasie przygotuj farsz. Szczaw umyj i posiekaj. Na patelni rozgrzej łyżkę oliwy i wrzuć szczaw oraz posiekany czosnek. Smaż ok. 5 min – do czasu jak szczaw zmięknie i zmniejszy objętość (jak szpinak). Twaróg i fetę rozdrobnij widelcem i wymieszaj ze szczawiem. Dopraw do smaku pieprzem i ewentualnie solą.
Ciasto rozwałkuj na grubość 5 mm. Nie może być za cienkie, żeby ciasto nie popękało a farsz nie wypłynął. Za pomocą szklanki wykrój kółka, do każdego nałóż ok. pół łyżeczki farszu i zlep brzegi. Pierożki połóż na blachę wyłożoną papierem do pieczenia. Każdy pierożek posmaruj rozbełtanym jajkiem i posyp czarnuszką. Można posypać sezamem lub solą morską. Piecz ok. 35-40 min w temp. 180 stopni. Pierożki podawaj z kwaśną śmietaną i szczypiorkiem.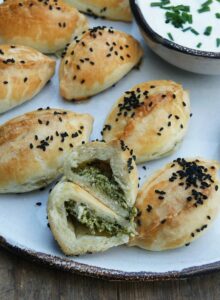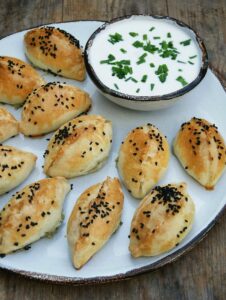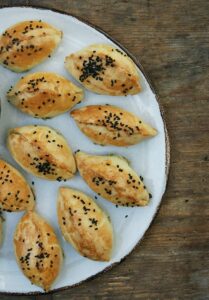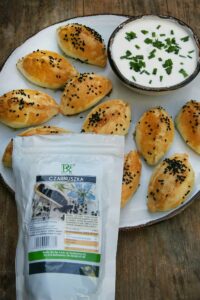 Przepis z magazynu Sielska Kuchnia.